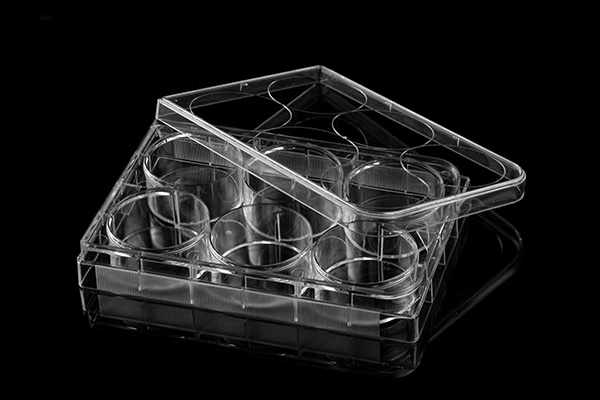 Cell Culture Plate 6 Wells
Cell Culture Plate provide excellent smoothness and uniformity based on accurate molding technology. By such property, clear view can be available when examine with a microscope.
Specifications: 6wells , 12wells,24wells.,48wells,96wells
---
PRODUCT FEATURES
* The product is made of medical grade USP CLASS VI polymer polystyrene
* The product is made under a 100,00- class dust-free manufacturing site
* Two kinds of product line up are providing.
For adherent cell culture: Initial adherence and proliferative property of cells via hydrophilic surface treatment.
For suspension cell culture: The surface is resistant to cell adherence, which minimizes damage or loss of cell.
* Gamma radiation sterilization
* Non-Pyrogenic, DNase/Rnase free.
Non-treated Cell Culture Plate,For suspension cell culture
| | | | | | | |
| --- | --- | --- | --- | --- | --- | --- |
| P/N | Well | Cell Growth Area(cm²) | Volume | Bottom | Qty/Pk | Qty/Cs |
| 221100 | 6 | 9.5 | 16ml | Flat | 1 | 50 |
| 221200 | 12 | 3.6 | 6.5ml | Flat | 1 | 50 |
| 221300 | 24 | 1.9 | 3.4ml | Flat | 1 | 50 |
| 221400 | 48 | 0.88 | 1.3ml | Flat | 1 | 50 |
| 221500 | 96 | 0.4 | 0.4ml | Flat | 1 | 100 |
Tissue Culture Treated Plates,For adherent cell culture
| | | | | | | |
| --- | --- | --- | --- | --- | --- | --- |
| P/N | Well | Cell Growth Area(cm²) | Volume | Bottom | Qty/Pk | Qty/Cs |
| 220100 | 6 | 9.5 | 16ml | Flat | 1 | 50 |
| 220200 | 12 | 3.6 | 6.5ml | Flat | 1 | 50 |
| 220300 | 24 | 1.9 | 3.4ml | Flat | 1 | 50 |
| 220400 | 48 | 0.88 | 1.3ml | Flat | 1 | 50 |
| 220500 | 96 | 0.4 | 0.4ml | Flat | 1 | 100 |